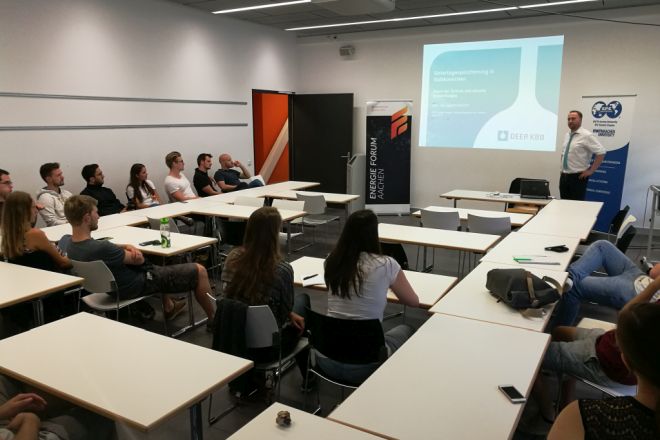 DEEP.KBB GmbH company presentation
Report written by Alexander Jüstel (M.Sc. student of Applied Geosciences at RWTH Aachen University)
On 9th July 2018, in cooperation with Energie Forum Aachen, we organized a company presentation of DEEP.KBB GmbH by Dipl. Ing. Andreas Acht. The offices of DEEP.KBB are located in Bad Zwischenahn and Hannover in Northern Germany with about 100 employees including 10 to 20 geologists. The company focuses on the constructions of salt caverns, storage of liquids such as oil or gases in salt caverns and porous rocks and is conducting research regarding these topics.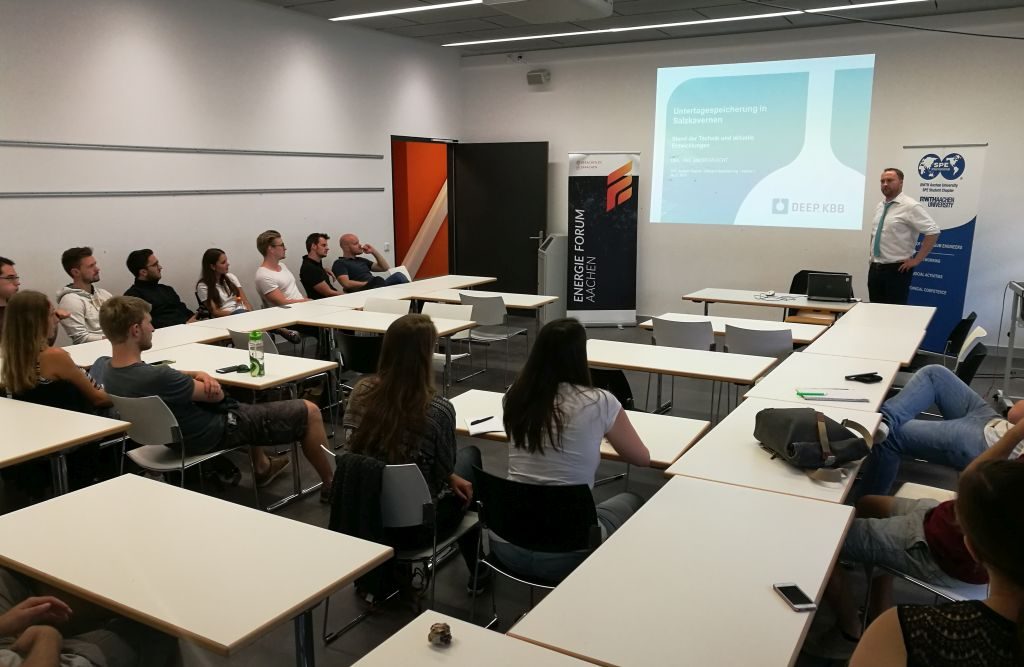 In front of an audience of about 15 students, Andreas Acht presented the history of his employer and showed us videos about the different steps of a gas storage facility project covering legal, engineering and geological aspects. The process of how to dissolve salt in the underground to create a salt cavern was elaborated on in more detail. During the formation of a salt cavern the brine containing the dissolved salt will be evaporated and the resulting salt will be sold to the industry. In order to store gas or oil safely in the underground, barrier systems have to be implemented to avoid leakage. Generally, salt caverns have dimensions of 300 m to 500 m in height and 30 m to 100 m in width.
Salt caverns are currently used as storage facilities for the strategic reserve storing oil and fuel for the Federal Republic of Germany. In the future, salt caverns will play a vital role in terms of storing excess energy produced by renewable energies as high air pressure storages or hydrogen storages. Through the process of electrolysis, excess wind or solar power energy can be used to create gaseous oxygen and hydrogen from water. The oxygen can be released to the air and the hydrogen can be pumped into the underground. During times of no wind and no sunshine, the stored hydrogen can be used again to provide electrical power for the public grid and the industry.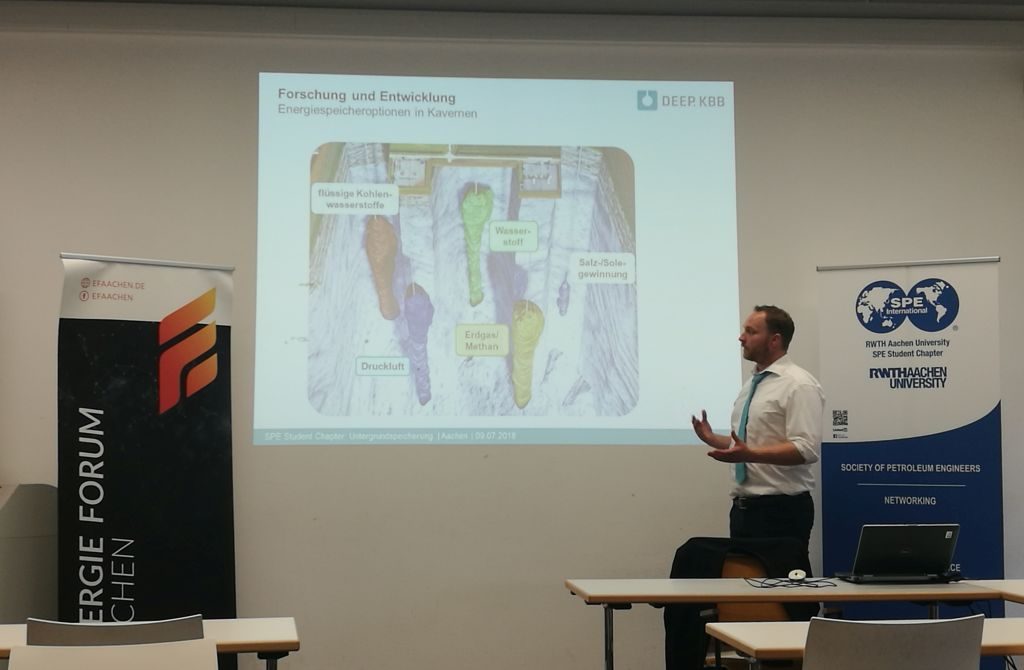 Shortly after the company presentation, one of our fellow master students who attended the lecture, graduated in Applied Geosciences (EMR) and got employed as salt cavern engineer at DEEP.KBB in Bad Zwischenahn. This demonstrates once again how important it is to attend such company presentations as SPE member in order to get in touch with companies to build up your own network.
On behalf of the RWTH Aachen University SPE Student Chapter and the Energie Forum Aachen we would like to thank Andreas Acht for his time to elaborate on salt caverns and how his company successfully contributes to the ongoing energy transition in Germany. Thank you for your visit and we hope to see you again in 2019! We were told that it is now possible to look at salt caverns in 3D with VR goggles. Sounds exciting…