Get together with SPE at GZB
Report written by Alexander Jüstel and Danielle Mendoza-Torres (MSc students of Applied Geosciences at RWTH Aachen University)
On 22nd February 2019, ten members of the RWTH Aachen SPE Student Chapter started an early-morning trek to attend the "Get Together with SPE in Bochum" at the International Geothermal Center in Bochum (GZB). This event was organized by the GZB as a way to introduce interested students to the field of geothermal energy development; additionally, it served as an important networking opportunity for students, geothermal industry professionals and representatives of the GSSPE (German Section of the Society of Petroleum Engineers).
After an early start in Aachen, the small conference was kicked off in Bochum with several non-technical sessions. Dipl. Ing. Volker Wittig introduced the GZB and elaborated on opportunities for students and young researchers at the GZB. Prof. Dr. Tobias Backers, President of the GSSPE, and Michal Kruszewski, employee at the GZB, gave an introduction about SPEs guiding principles; in addition to the ample benefits of being an SPE member!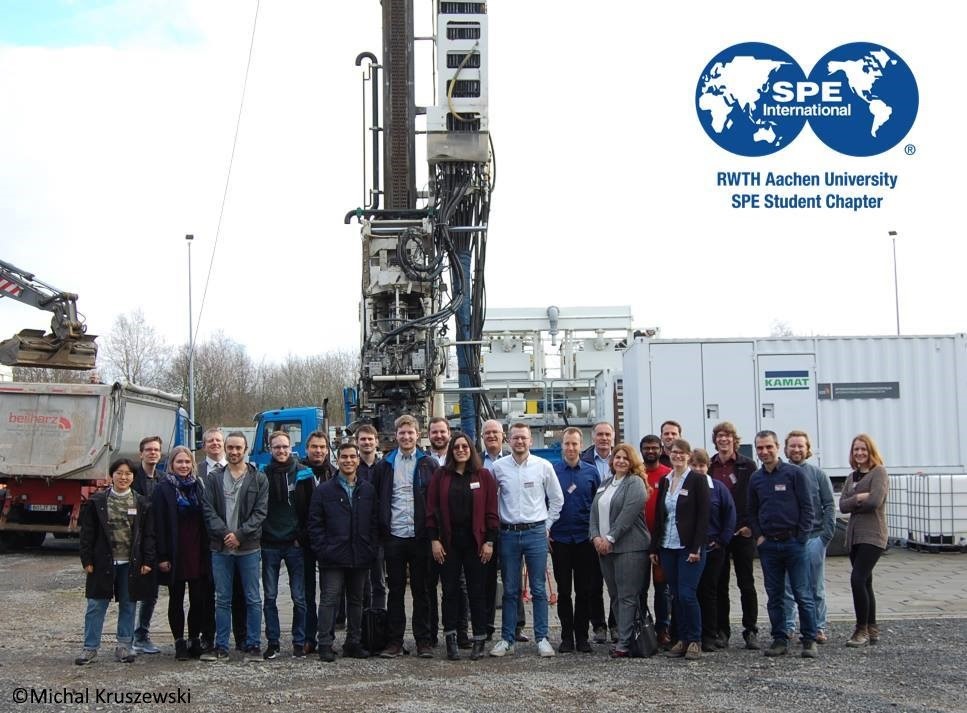 To round off the non-technical session, our 2018 Vice President – Danielle Mendoza-Torres – presented the student chapter's activities and the chapter's goals for future development and retention of student interest.
Following the morning introductions, attendees were treated to two technical sessions about topics such as, but not limited to: locating microseismic sources in the underground, laser jet drilling, and using abandoned coal mines in the Ruhr district as geothermal reservoir. The topics presented provided a brief and unique overview of research and developed technologies at the GZB.
In between the sessions, participants had the chance to talk to representatives from SPE, GZB and industry professionals from Halliburton and Geomecon. The conference was concluded with a tour through the GZB laboratories and drill site showcasing the impressive one-of-a-kind GZB designed mobile drill rig.
To round off a full day of talks and tours, the GZB provided all participants with Happy Hour drinks, and afterward participants were treated to local food and drinks via dinner and a tour through the "Bermuda Triangle" in Bochum's city center. This after-hour networking served as a unique opportunity for students to grow their network in a relaxed setting where conversations about industry and non-industry related topics flowed freely.
In conclusion, the "Get Together with SPE in Bochum" event acted as a great opportunity to develop new connections and foster old ones, in addition to planned preparations for future cooperations with the GZB and RWTH Aachen SPE Student Chapter. So far, two students of our student chapter were offered opportunities with the GZB to write their master thesis and gain work experience via internship – just a couple more reasons to be an SPE student member. All in all, our congregation had a very successful and long day with many good talks, people, food and drinks. We want to offer our thanks to  GZB for this year's invitation, and we hope to be invited to another successful installation of this event next year.