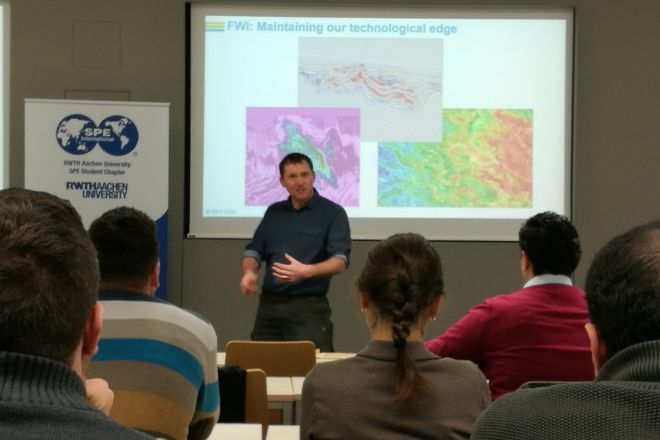 CGG company presentation and application training
Report written by Alexander Jüstel and Danielle Mendoza-Torres (MSc students of Applied Geosciences at RWTH Aachen University)
On 14th December 2018, The RWTH Aachen University SPE Student Chapter was visited by CGG (Compagnie Generale de Geophysique), a French geophysical service company providing services in the field of geology, geophysics and reservoir engineering to companies within the oil and gas industry. We were visited by Owen Pape (Recruitment Technical Advisor and Geophysicist) and Benjamin Bosbach (Geophysicist and graduate of the RWTH Aachen University).
Prior to the company presentation, several students had the opportunity to participate in a simulation of a recorded online job interview which was then evaluated by Owen and Benjamin. The questions asked in the simulation were similar to ones expected for a real online interview. Their impressions of the simulation were addressed during a two on one session, where every participating student received individual feedback on their performance and tips on how to improve for the real deal.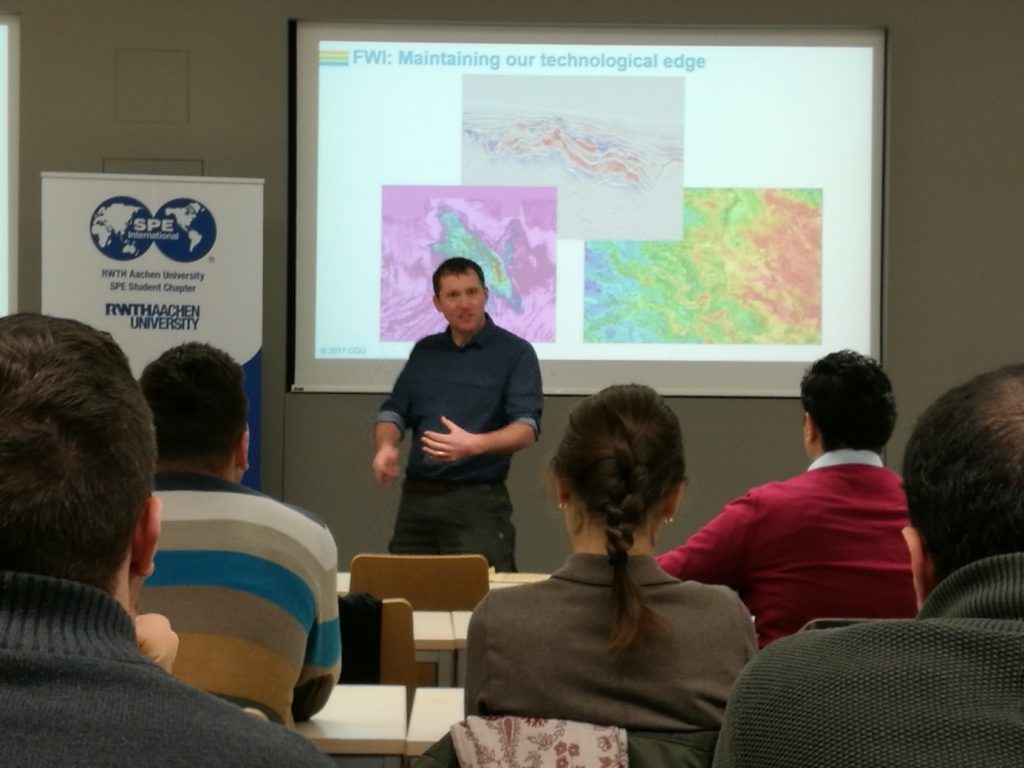 Owen Pape enthusiastically introduced and explained CGG's activities to the interested students.
During the company presentation both Owen and Benjamin shared insights into the progression of their careers, as well as the activities of the company. At the end of the session Benjamin, graduate of RWTH Aachen University, elaborated on his work at CGG and how interested candidates can become a part of their team. As an additional service, Owen offered to review CVs and provided more information on the upcoming internships as Imaging Scientist at CGG. He encouraged all in attendance to apply!
The internships advertised were posted on CGG's website in early 2019, and already several students have applied. Whilst writing this report, some students have completed the online video interview stage and were invited to the CGG Assessment Center in April 2019 in Crawley, UK.
With this in mind, the benefits of being a RWTH Aachen University Student Chapter member are already evident. Students receive first hand information about companies and student opportunities within these companies; additionally, students are exposed to important persons within the hiring process, and therefore have an upper-hand acquiring internships and jobs.
On behalf of all students and the SPE Student Chapter of the RWTH Aachen University we would like to thank Owen and Benjamin for their time to evaluate the video interviews, for their valuable insights into  CGGs company atmosphere and the important work they are doing. We are also very happy to accept their invitation to visit CGG's offices during the EAGE conference in London in June 2019.